Scott Boomlock: The Proven & Easy to Use Jibe Preventing Boom Brake
Be safer at sea with the Scott Boomlock. Depending on the size of your mainsail choose either the Scott Boomlock 1, to lock your boom in place, or the Scott Boomlock 2 which can act both as a lock and a boom brake to control the speed of your boom swing. Both of these amazing products will increase your safety at sea by reducing the dangers from uncontrolled gybes and make downwind sailing safer and more relaxing. Order your Scott Boomlock today!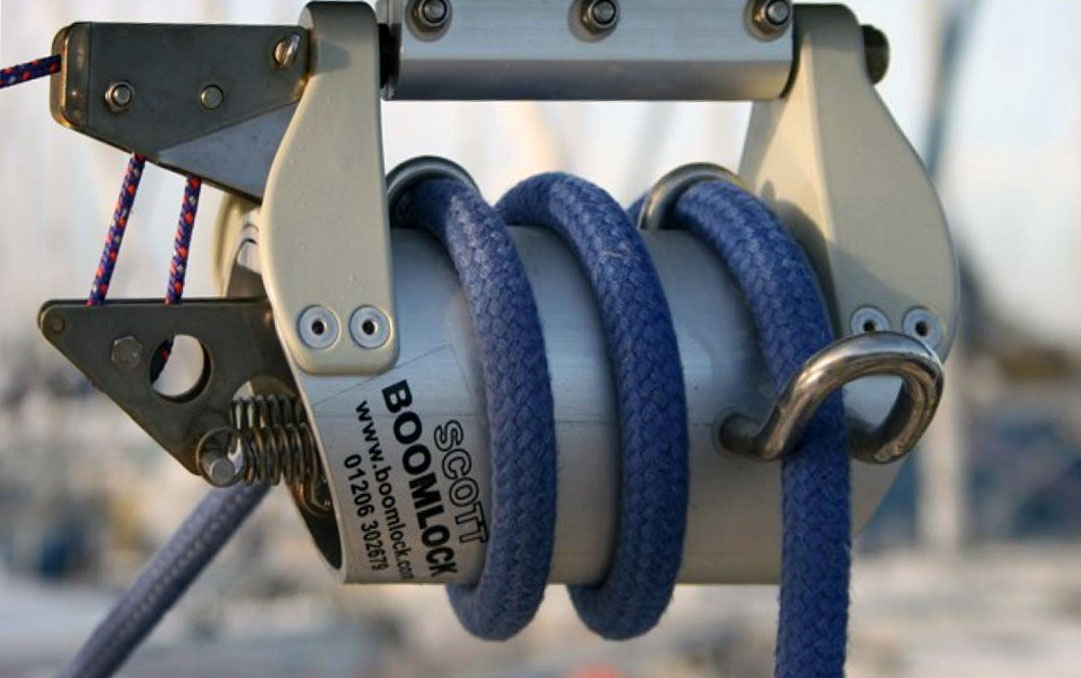 Why choose the Scott Boomlock?
Very simple to use & fit
Minimal rope clutter
Tried & tested the world over
Robust & corrosion free
Prevent danger & injury
Order Now >>
Scott Boomlock 1:
For yachts with a mainsail area up to 23 sq.m (250 sq.ft)
Safely lock your boom in place, to move it simply pull on the control line!
Scott Boomlock 2:
For yachts with a sail of up to 55sq.m (600sqft)
Not only an uncontrolled jibe preventer but also a boom brake
Lock the boom centrally when stowing the mainsail
Prevent boom slatting in light airs or when motor-sailing
The Scott Boomlock is designed to:
Prevent danger and potential injury from an uncontrolled boom!
Minimise rope clutter unlike more basic preventer lines
Sits tight to the boom (only hanging 125mm) with its strong and compact design
Fitted with ease and minimal disturbance to other boom fittings
An easy, simple and safe jibe guard, no matter which way the boom swings
A full package product! Buy a Scott Boomlock complete package and you get everything you need in one pack!
Models
Scott Boomlock 1:
Boomlock 1 fits yachts up to 30' with maximum mainsail area of 23 sq.m (250 sq.ft)
A reliable, easy to use jibe preventer designed to keep you safer while sailing downwind by preventing unexpected jibes and a free swinging boom
Operated by a single line there is minimal rope clutter
Special Scott Boomlock 1 package, includes:

Preventer line (7m of 8mm 16 plait matt polyester rope)
Control line with handle (8m of 4mm Marlow Excel Racing)
2 safety lock carbine hooks for the preventer line
A standard deck hardware kit
Scott Boomlock 2:
Scott Boomlock 2 fits yachts up to 50' with maximum sail area 55 sq.m (600 sq.ft)
This essential piece of kit gives you the power to not only lock your boom in place but also control it by using it as a boom brake.
Easily manage the swing of your boom – give yourself boom control and peace of mind with this boom brake
Eliminate the risk of surprise gybes from a dangerous boom
Special Scott Boomlock 2 package, includes:

Preventer line (10m of 12mm 16 plait matt polyester)
Control line with handle (10m of 4mm Spectra)
2 safety lock carbine hooks for the preventer line
A pro deck hardware kit
How it works
The Scott Boomlock 2 is an aid to easy sailing
It is a simple way to ensure peace of mind when sailing alone, with family or friends as it eliminates the potential danger of an uncontrolled boom swing. Avoid the nightmare situation of injury, or worse, caused by an unexpected, uncontrolled jibe.
How does the Scott Boomlock 2 do this?
The Scott Boomlock 2 attaches to the underside of the boom. It can either go in the track or be pop-riveted on
The preventer line feeds around the Scott Boomlock 2 and is attached to strong points aft the mast on both sides of the boat
The swing of the boom is controlled by a light control line which runs forward from the Scott Boomlock to the mast and then back to the cockpit
The magic comes from the control line operating a toggle inside the Scott Boomlock 2. This mechanism regulates the friction between the drum and preventer line. So with minimal effort the control line regulates the speed of the boom swing
How do I use a Scott Boomlock 2?
When you are sailing downwind and your boom is out you simply pull on your control line and this engages the lock. You then secure the control line in a cam-cleat.
What this means is, if the wind expectably shifts then your boom wont jibe out of control and potentially injury either you or anyone else on-board or cause damage your yacht.
This gives you the time to react to the wind change. You don't have to worry about where the boom is and who it might hurt. Instead you can calmly decide either to alter course and fill your mainsail again or jibe. If you want to jibe it is easy, you just slowly release the control line and manoeuvre your boom.
Alternatively you could semi-engage the lock and so the Boomlock 2 is used as a brake. In this case the boom will swing slower, with more control and with less damaging force.
What is the difference between a Scott Boomlock 1 and 2?
A Scott Boomlock 1 is for smaller yachts with mainsails of no more than 23 sq.m. Rather than being a boom brake the Scott Boomlock 1 locks the boom in place. It is either on or off.
The Scott Boomlock 2 is a boom brake and gives you the power to either lock the boom in place or use it as a boom brake and control the swing of your boom. It is for yachts with a maximum mainsail of 55 sq.m.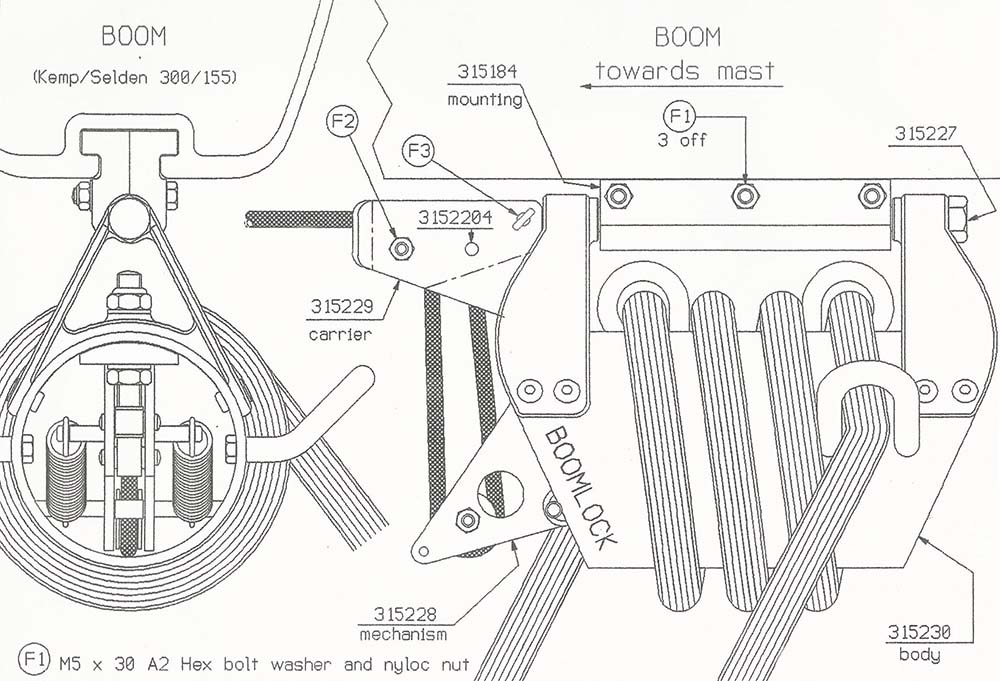 Installation Instructions
The Scott Boomlock is quick and easy to install and comes with full and comprehensive fitting and operating instructions. If you find that you need help, then Sailspar are just a phone call away and happy to help.
The Scott Boomlock 1 or 2:
Mounts easily under the boom without need to disturb other boom fittings or removing your end caps
Inserts anywhere onto the boom track
No underside track? Then mount with pop-rivets
Requires minimal maintenance
Gives you peace of mind
View instructions
Boomlock 1 Installation Instructions
Boomlock 1 Operating Instructions
Boomlock 2 Installation Instructions
History of the Scott Boomlock
The Scott Boomlock was developed by Donald Scott, a talented Chartered Mechanical Engineer with a lifetime's experience of the design and development of innovative products.
Donald was passionate about sailing. Having owned cruising yachts for many years he embarked on many long distance adventures. The need for a Jibe Preventer was brought to Donald's attention in dramatic style in 1991 whilst sailing in the Scottish Hebrides with a friend. Under the high mountains, a sudden and unexpected downdraught brought the boom suddenly and unexpectedly crashing across the cockpit at a rapid rate, parting the hair of his tall friend. Blissfully unaware, the friend was watching seals from the cockpit narrowly avoiding disaster by a hairs breadth!
Following this close shave, which could have so easily ended in catastrophe, Donald vowed that it must never happen again. As soon as he got back ashore, he researched what was available to prevent this sort of dangerous jibe, noting that the available options were severely inadequate. Donald decided it was an area that needed a radical rethink resulting in the inception of the Scott Boomlock.
Donald wanted it to be simple to operate from the cockpit in a way that would be intuitive, even for inexperienced crews. He wanted it easily fitted, simple, robust, reliable and able to survive many years in a marine environment. The result Scott Boomlock 1 & Scott Boomlock 2 as we know them today.